GuardianCoil® Safety Barriers protect personnel, contain debris and comply with Occupational Safety and Health Administrations(OSHA) requirements to prevent injuries from projectiles. Cascade Coil custom manufactures GuardianCoil® products in a wide variety of wire types, gauges and weave sizes. Through the proper selection of weave and wire gauge, a solution can be tailored to your specific safety needs. Our manufacturing technique allows the finished product to be flexible in one direction, giving you more design options than traditional fencing or solid metal barriers.


GuardianCoil® works as a protective screen around all types of machinery, including mills, routers, spar mills, lathes, grinders, forges, testing equipment, etc. It's used as a machine guard to protect personnel and property from high-velocity flying debris or shrapnel. GuardianCoil® is an excellent barrier against shattered carbide cutters, grinding wheel fragments, and large metal shards. The wire mesh curtain provides a clear view of the equipment while keeping the operator safe.
Installing GuardianCoil® allows easy access to machines while providing a lower-cost method of meeting OSHA guard standards. Because the mesh is typically black, safety yellow or stainless steel, the machine operator's eyes can easily focus on the point of operation. The curtains are lightweight, easy to install, maintenance free, and allow natural light visibility.
GuardianCoil® is typically secured at the top and hangs free at both sides and the bottom. GuardianCoil® not only stops dangerous flying debris, but also protects those within the confines of the work area. Upon contact, GuardianCoil® wraps around the debris and drops it onto the floor, preventing it from leaving the work area or ricocheting back toward the machine operator.
Key Features
Fireproof and Virtually Maintenance Free
GuardianCoil® is 100% Fireproof. It does not absorb oil, grease or other flammable liquids, plus it can be easily cleaned.
Damaged sections can easily be replaced by splicing in the new panels on site.
Durable
Superior break-through strength and corrosion resistance.
Lightweight and long lasting.
Flexible
GuardianCoil® expands and contracts in one direction allowing easy access to work areas.
Dissipates a projectiles kinetic energy by enveloping around the object.
The relative low weight of GuardianCoil® minimizes structural support requirements.
A wide assortment of stainless hooks, split rings, track systems, and other hardware is available to support GuardianCoil® safety barriers.
Enhances Supervision and Productivity
The flow-through design of GuardianCoil® allows ventilation and light into the work area.
Visual observation of both the machinery and operator is allows enhanced supervision, productivity, and safety.
Customizable
GuardianCoil® is manufactured to your size and application specifications.
A wide variety of weave sizes and materials are available to meet particular application requirements.
Unlimited variety of colors available.
Cascade GuardianCoil® at a Glance
With our portable brochure, you can share the possibilities of Cascade GuardianCoil® with clients, or keep as a reference when speaking to a knowledgeable Cascade representative.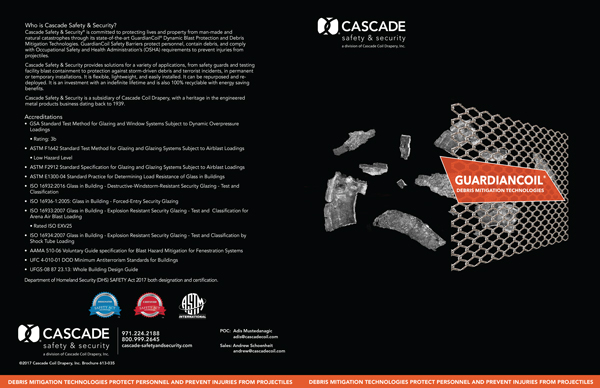 Download Cascade GuardianCoil® Brochure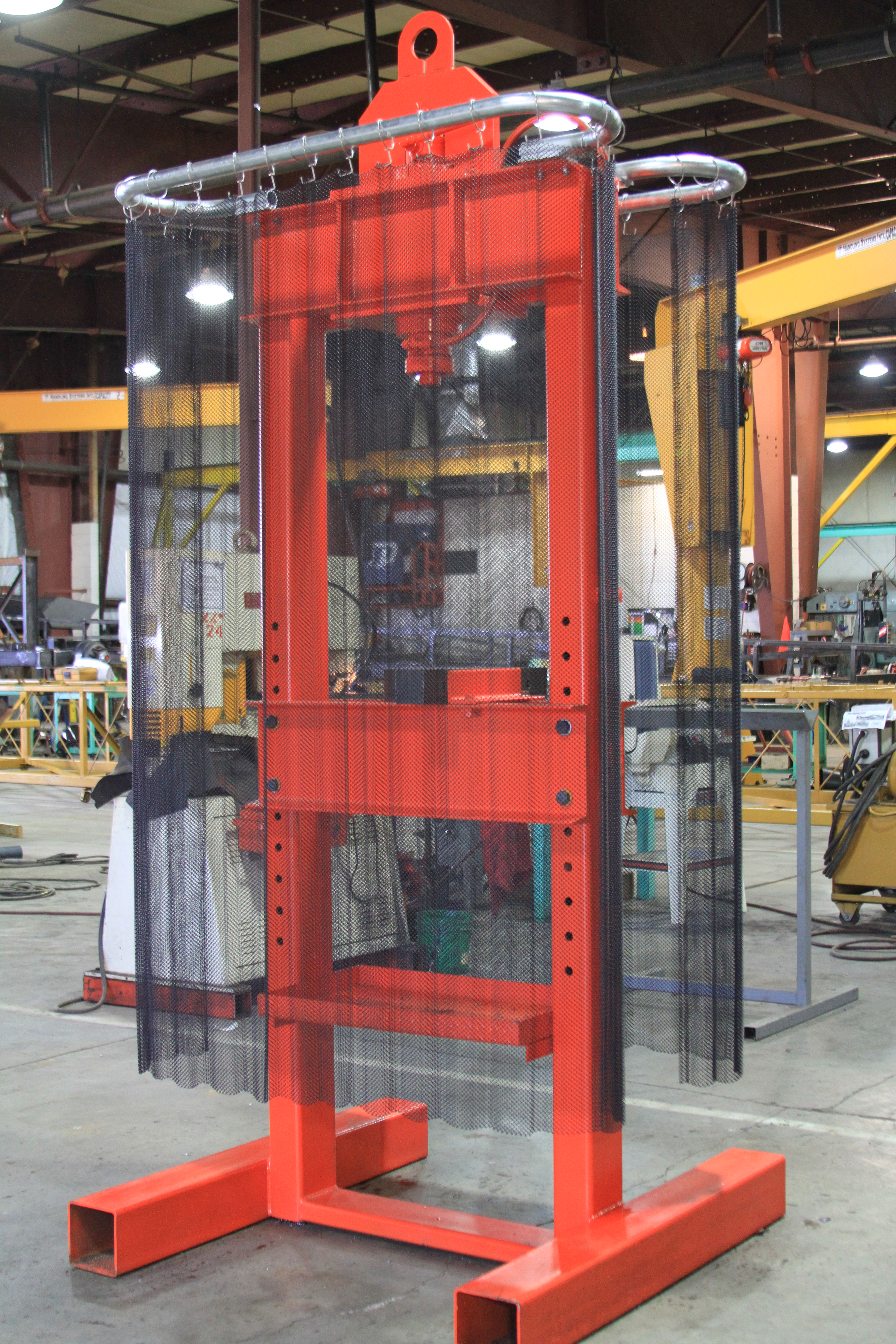 Flying and falling objects are principal hazards in many manufacturing environments. Each year an estimated 250,000 workers are struck by ejected debris such as metal chips, nails, broken cutters, blades, tools and dislodged grinding wheels. Minimizing the injuries and fatalities caused by airborne particles should be one of the most important objectives of a comprehensive safety program.
Preventing accidents caused by dropping or propelled objects is a primary goal of many safety programs. OSHA's safety requirements for eye and face protection help prevent bodily injury. However, unprotected body parts such as the chest, arms, feet and legs can still be struck. Installing GuardianCoil® Safety Barriers around machines and equipment can be an effective step toward reducing injuries and fatalities in the work place. GuardianCoil® is custom manufactured from interlocking spirals of steel wire. The unique woven mesh essentially catches the flying or dropped object, blocking it from ever reaching the operator or nearby personnel. Available in steel and stainless steel, with various coatings and finishes, GuardianCoil® protects people and property.