Cascade Industrial Safety and Security, a division of Cascade Coil, is the international leader in the manufacture of coiled wire fabric systems for a variety of new and retrofit industrial safety and security applications.

GuardianCoil® coiled wire fabric is used for our Industrial Safety and Security Systems to protect personnel and contain debris. It is compliant with the Occupational Safety and Health Administration's (OSHA) requirements to prevent injuries from projectiles, specifically ANSI B11.19-2003.
Cascade GuardianCoil® at a Glance
Download Cascade GuardianCoil® Brochure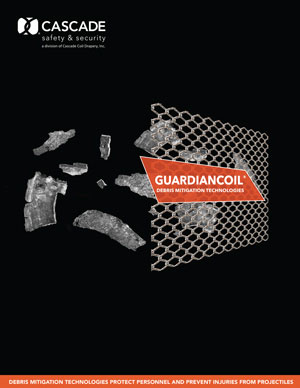 Download Cascade Industrial Safety Flyer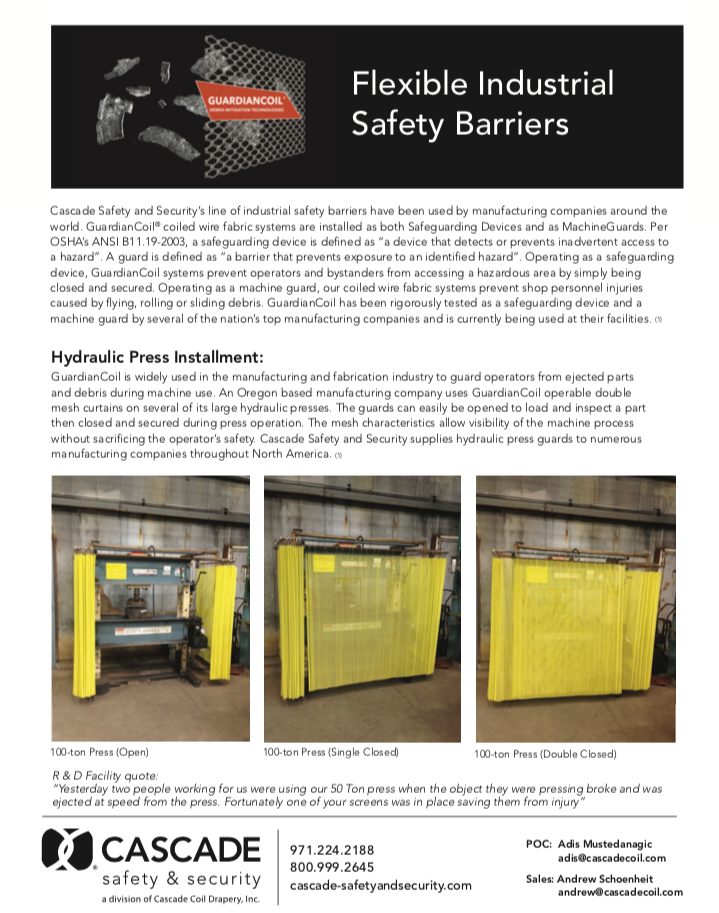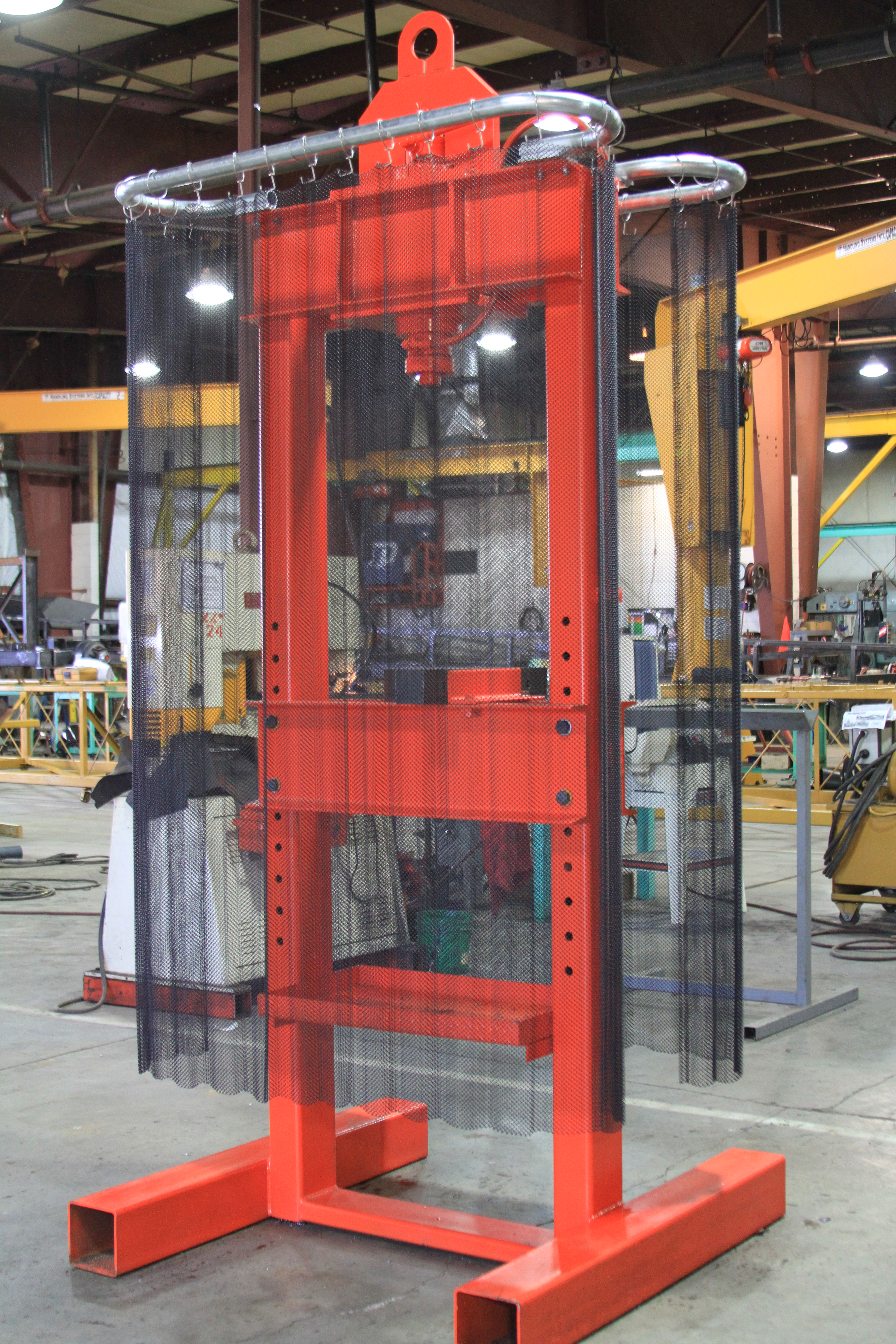 Press Guard Kits
Press guard kits are readily available and easy to order based on the height and width of your machine. The guards include an adjustable steel pipe assembly, industrial safety hooks, and a steel coiled wire fabric curtain with a Safety Black finish. Perfect for equipment ranging anywhere from 24"-72" wide and 58"-87" high, our pre-engineered systems are easily operable and allow operator visibility into the machine space.
Visit Our Online Store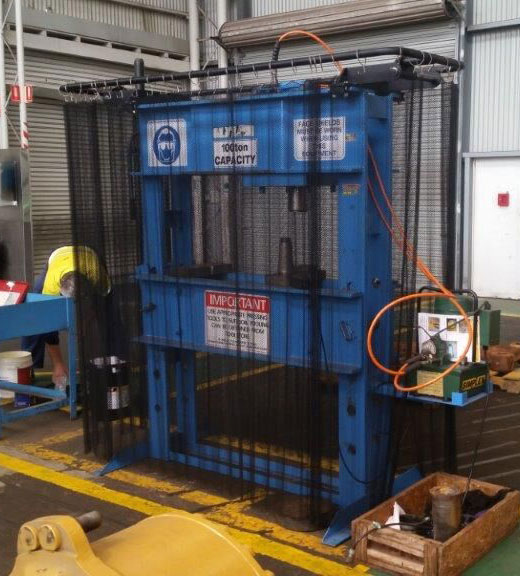 Custom Press Guard Solutions
Cascade offers custom press guards that may be manufactured in your choice of wire type, gauge, and weave size tailored to the safety needs of you and your employees. The mesh is typically safety black, safety yellow, or stainless steel – each allowing the machine operator's eyes to focus on the point of operation with ease. Regardless of size, the lightweight curtains are also easy to install and maintain.
View Custom Design Options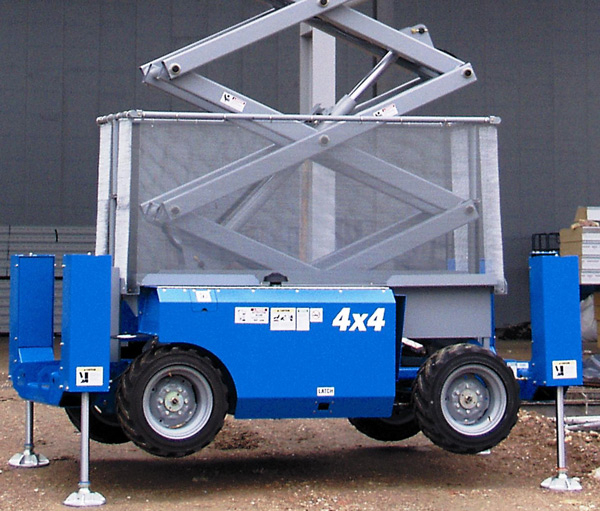 Custom Industrial Safety Guards and Other Applications
For customers seeking a solution for larger machines or special applications, we offer custom industrial safety guards for a range of machine and equipment types. Whether your facility needs a safety solution for a scissor lift, bandsaw, conveyor line, or any other type of machine, we provide comprehensive operable safety systems as well as full safety screens, dividers, and gates.
View Custom Design Options
Delivering a full range of industrial safety and security products to the North American market for over 30 years, Cascade Industrial Safety and Security delivers the highest degree of experience in the engineering, design, manufacture, and installation support of coiled wire fabric systems. We pass along individualized technical installation support to our customers and can assist in the development of your system.
From machine safety guards to blast curtains to security enclosures, Cascade Industrial Safety and Security delivers standard stock and custom engineered systems for a variety of industrial and manufacturing applications.
Cascade Industrial Safety and Security engineered attachments allow Cascade's GuardianCoil® coiled wire fabric systems to be installed in static or moveable positions, to accommodate panels in a wide variety of sizes, thickness, and open areas, and to achieve all applicable performance requirements of the material.
All Cascade coiled wire fabric systems are fully designed, engineered, and tested to ensure all safety and security capabilities – keeping your facility and personnel protected.
Highly Engineered for Dynamic Blast Protection™
GuardianCoil® is a highly engineered, innovative system that provides Dynamic Blast Protection for potential high-threat industrial settings including material testing labs, production lines, warehouses, equipment service centers, and manufacturing facilities. Our systems are a cost-effective alternative to traditional safety guards but still achieve the full range of protective functions necessary for industrial environments.
GuardianCoil material flexes in a predictive and repeatable way to absorb the force of blasts or projectiles, keeping safe the area around the designated testing space or material operation point. No other blast protection materials offer this dynamic characteristic. Its interwoven coils are both flexible and resilient. It forms, in effect, a three-dimensional spring that spreads forces to adjacent areas like ripples in a pond. By dynamically absorbing the energy of a blast, it harmlessly diverts energy and debris away from personnel and structural building components.
Design Options
GuardianCoil® systems are available in a range of unique attachments. With customizable hardware, materials, weaves, and finishes, our pre-engineered systems can be modified to meet the requirements of your individual project.